Wow, only 34 days!!
We had such a blessed week and month! Here is a short list of things we were REALLY worrying about:
1. Selling the Pathfinder - this was basically the only thing we owe money on. We have property, but we are renting it out, so that is covered.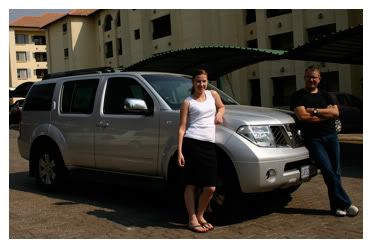 2. Selling our Leather-couch set - it is huge, and whenever someone is interested they tell us it's to big once they've seen it. We can't take it over-seas with us, and we don't want to put it in storage either.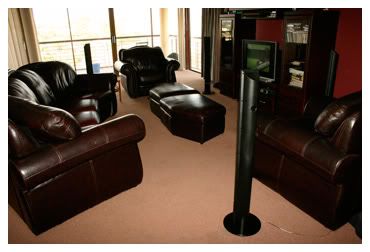 3. Selling our snooker table.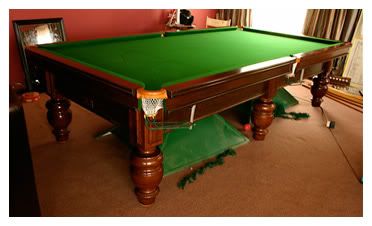 4. And for me, the BIGGEST worry was getting my & Phoenix's Visa's in time.
So after lots of prayer and Faith:
1. Pathfinder sold, rather quick .
2. Leather-couch set sold and picked up Yesterday.
3. Snooker table, we do have a buyer for it. It looks like he will be taking it next week some time.
4. The Visa's, well, what a story! We handed in my Visa application at New-Zealand High Commission 2 and a half weeks ago. We got an e-mail from them requesting our son's Visa application as well, basically saying mine can't be fully processed without Phoenix's with. We told them that we are short one document, and they said we should hand in what we've got, they'll then start processing his, and then just wait for that one document before making a decision.
Our biggest problem with Phoenix's application was that, at that time, we had not received his unabridged birth-certificate yet. It's suppose to take 4-6 weeks, at this point we have been waiting for 8 weeks, and if you phone home affairs you get told the exact same thing every time "It is on my system, but not processed yet, I don't know what the problem is, I'll elevate it for you. You can call back in a week's time" We tried EVERYTHING! We asked if we could re-apply (and pay again) the answer was No, then we asked if we could talk to a superior, only to be told "this is a call centre, there is no manager/superior you can talk to" Then we asked for the number of someone ANYONE who can just explain to us what the hold up is - nothing. Finally, last Wednesday (11 weeks after requesting the document) Daniel and I decided to just drive to Home affairs Head Office and stay there till we got some sort of feedback. After an hour of standing in reception, right at the front desk, we got 4 numbers we could call. Daniel called 3 of the numbers - no answer, he then called the fourth number, and got put through to the wrong person. She was delightful, explained to us that there is a backlog in unabridged certificates, and they are busy putting babies on the system alphabetically, but they're now only busy with babies born in 2002. UNBELIEVABLE!!!
She also said she spoke to a person the other day, he was in tears, he's been waiting for NINE MONTHS for his son's unabridged birth certificate, and he too can't get visa's done without it.
She then told us that there is a form you can fill in (it seems that the people at the call centre are not aware of the existence of this form) and fax to her, she can then put it on the system as soon as she gets it. Daniel asked her if this means that we have to drive 30 minutes to Cullinan (again) only to get the form. She then asked him to hold the line for a sec. Came back and said to him, that she asked her superior, and she was given permission to do it over the phone. 5 questions later the document was ready for collection!! I swear, I was about to get in my car, drive over to home affairs head office, and kiss her!!
8:20am Tuesday morning I picked the certificate up from Cullinan, went straight to NZ High Commission and dropped it off. 2 hours later we got the following e-mail: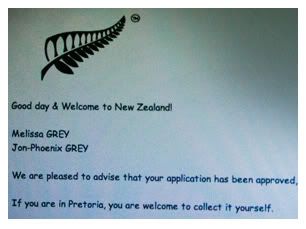 WE HAVE BEEN APPROVED!!! Woohoooo! NZ here we come!
Daniel picked our passports up Friday afternoon. Sweetheart that he is, I was surprised with my Passport incl. Visa, and the Black Eyed Peas CD I've been meaning to buy, with a message written inside from my husband, congratulating me on my Visa approval.
So, Here it is:
(Including Daniel NZ & SA VISA's)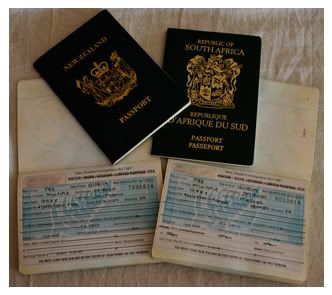 Needless to say we've been saying a lot of thank you prayers. God is good!!