Let me begin this post by thanking Daniel for being such a good dad (and husband).
Father's day started early for me (Melissa), Phoenix was up at 6, and I took him upstairs to the TV room so his dad could sleep in. We made Daniel a father's day card, and I baked fresh cheese muffins for breakfast (from scratch!). We then served Daniel breakfast in bed. I also banned my husband from doing any work, and he was not allowed near the computer. He had to REALLY take the day off and relax, and he did. I'll post some father's day pics at the bottom of this post.
Other Grey news.
Phoenix is getting cuter and cuter by the day! He loves reading, and looking through books, and if I ask him to point out objects (like a lemon, or dog ect.) he does so perfectly. He sings along with some of his fav. TV shows - he doesn't sing the words, but he mimics the way it sounds. And he LOVES music and dancing. If he is in the mood for a snack he often goes to the fridge and take out an apple for himself. Or if he wants chips he'll call me and then point to what he wants.
Our little boy also got his first time-out yesterday. He wanted something he couldn't get and then cried for it, NON STOP. So I gave him time-out after numerous warning. It worked GREAT! He got up once, but I put him back in his time-out spot, and he sat there for the rest of the minute. Afterwards he behaved like a dream! (I have to say Daniel and I were both amazed, we did not think it would work)
He also eats all by himself, and if I offer to feed him he says "nee nee nee" (nee =no).
I have been sick most of last week, and not being able to take any meds. (because of the pregnancy) made it SO much worse! My wonderful husband pampered me, and did EVERYTHING (taking care of Phoenix, making sure we have supper, and clean the house, AND all that after a hard day of work) for 3 days! Oh my gosh I LOVE DANIEL! I was back on my feet yesterday, just on time for father's day.
With our moving plans, well, all is going according to plan. We are busy selling all our belongings, and that is going great. We might have to move our flight date forward about two weeks, as the paper work on SA side is taking a bit longer than we expected (Police clearance takes 6-8 weeks, and we only handed Daniel's request in last week) We only need about 4 more documents, then we can send in our Visa request, and according to NZ immigration, it should take about 4 weeks for me and Phoenix's Visa's to come through once we send in the forms.
Well, that is all for now.
Here are some Father's day photo's as mentioned before:
Home-baked cheese muffins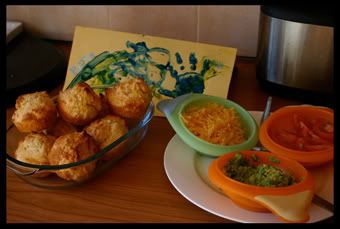 Happy Father's Day dad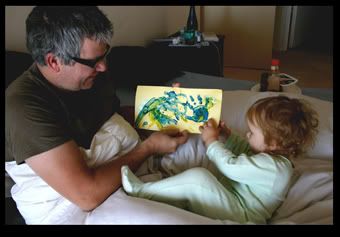 Breakfast in bed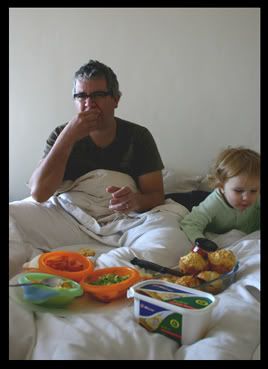 Some honey for Phoenix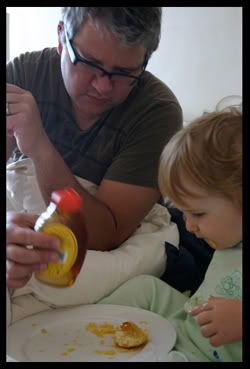 Phoenix LOVED my muffins!