We're finally home!! This week has been so amazing!!! We're really really REALLY tired, but it is all SOO worth it, and we just LOVE being parents!!!! Jon-Phoenix is the most amazing little being we have ever seen!!
Thus far he has been a perfect baby!! He feeds every 3 hours basically just sleeps the rest of the time!!! He just seems so content, and we love him so much!!!!
For me, the first day was a daze, I was so tired and overwhelmed!! Daniel has been so perfect and amazing, right from day one. I really have to say, I knew he was going to be a great dad, but he is a great dad, and more, I can't even describe it, it makes me so proud to see him with his son! He is just unbelievable, and so natural, from the second he first held Jon-Phoenix, like he was born to be a dad!! I have just fallen even more in love with Daniel!!!
I think so far I've done about 4 nappies; my wonderful husband does them the rest of the time. In fact, the first time I did a nappy was when Jon-Phoenix was 2 days old, and they left him with me for the night for the very first time – it was so overwhelming. It was the first time I REALLY got to hold him, and love him, and just have him all for myself. And I don't know if it is because I had a c-section, but that was also the first time that I REALLY REALLY felt that he is MY baby!! It was great, I loved every second of that night!!!
We went home on the 15th of November. Jon-Phoenix is a bit jaundiced, so we have to put him in direct sunlight for a couple of minutes a day, but other than that he is perfectly healthy, and perfectly perfect!!!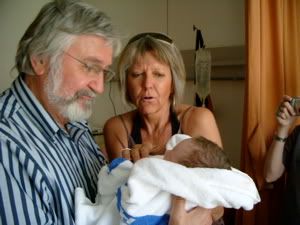 A couple of hours old with Ouma and Oupa Jan and Elise Grey
First night alone with mommy
Making foot-prints.....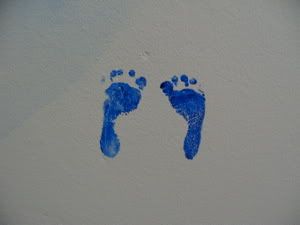 on the wall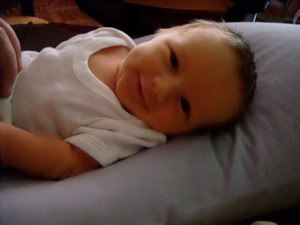 4 days old
Meeting cousins Kaelin and Chloe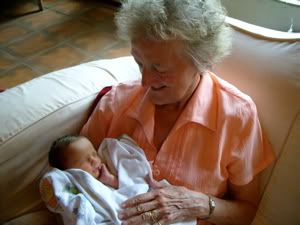 Great gran Joyce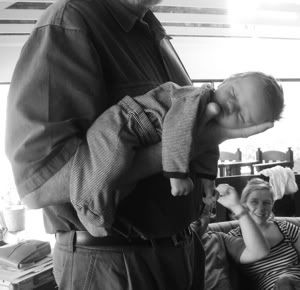 With oupa Jan