Little Grey is growing just beautifully! We went for another monthly checkup, and he is just perfect. And definitively a HE! (and also not a shy little guy!) His CRL measurement (top of head to bum) is 6.75 cm, and his little foot is 2 cm. Cutest little thing! I've got some sweet profile shots. Sorry about the quality, I took a pic of a pic....
Week 18: Sweet Potato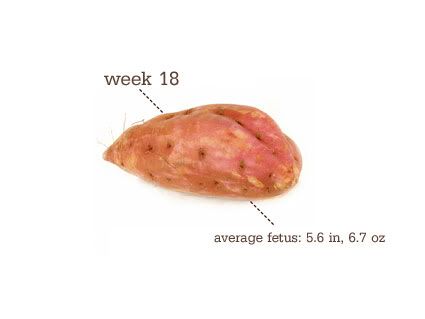 All About Baby
At week 18, your baby-to-be's senses are maturing. Hiss able to hear sounds within his own comfortable environment, such as the sound of your heart beating, as well as external sounds, such as your voice. He may become more active for certain sounds, and you'll feel his movements. At this point in his development he's still small enough that he has plenty of room to wiggle.
Your fetus has become amazingly mobile (at least compared to you), passing the hours yawning, hiccuping, rolling, twisting, kicking, punching, sucking and swallowing. And, baby's finally big enough that you'll be able to feel those movements soon.
And some Pics of me, I also included a pic of when I was 18 weeks Pregnant with Phoenix to compare.