Jon-Phoenix day 91.
This morning started of very happy, Jon-Phoenix had a nice long chat with dad about Australia – he is just getting cuter and cuter by the day!!!
We then went to my dad's house (I had to bake a cake for his cousin Chloe's 3rd birthday). While baking the cake I asked Elsie to please just carry him around for a bit on her back – He LOVED it!!!! Fell asleep about 20 minutes later!!!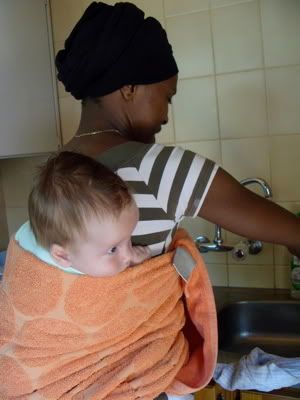 With cousin Kaelin....
We then put him and his cousin Luke (7 weeks old) next to each other. You HAVE to see this for yourself!! There was some serious baby-conversation going on there!!! So Adorable!!!
He also got these funky shoes from Schalk and Tania today!!!
The day ended with his dad reading him a bible story before bedtime.
Oupa Jan and Yia-Yia will be here in about 3 weeks YAY!!! We can't Wait!!!